Greenland is in now!
Among hunters worldwide Greenland is on the top list now. Remote, scenic and mysterious Greenland offers ones in a live time hunt and experience. Caribou and reindeer are of the same genus and species, Rangifer tarandus, and are differentiated only by sub-species. The feral-reindeer are larger than its indigenous Barren Ground Caribou but aside from that their appearance and habits are similar.
Caribou, pronounced Tuttu in Greenlandic, are of great importance to the Inuit as a source of meat, but they also play a role in their history, culture, and traditions. They can vary considerably in size, with females weighing up to 90 kg (198 lb) and male bulls 150 kg (331 lb).
The camp 
In the summer of 2012, Lax-á erected the first proper hunting- and fishing camp on the Southwest Coast of Greenland, the first ever permanent  hunting-and fishing camp in Greenland. A total of twelve sleeping cabins (twin bed) built around a dining lodge with plenty of room for bigger groups. The dining lodge is equipped with a kitchen, a gas BBQ and a charcoal BBQ. Meals are prepared by the camp chef – most of the menu originates in area (caribou meat, arctic char and fish from the sea). The camp has running water, WC, showers, sauna, BBQ and a fully equipped kitchen.  All this and still a wilderness camp – equates to a really a unique experience!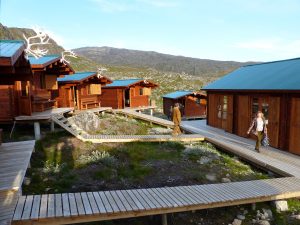 Included
• Welcoming at arrival in Greenland
• Transportation by boats according to the itinerary
• Full board and lodging at the Lax-á camp, shared cabin
• 1 guide to every 4 hunter
• All hunting and fishing licenses in Greenland
• 1 caribou trophy
• All paperwork for importing rifles and ammunition to Greenland
For further information about price and other oportunities take contact with karl@lax-a.is