King Eider in Greenland.
After many years of research in Greenland for King Eider and Common Eider we have now finalized all of our work and decided to open up an operation in the West Coast of Greenland , Nuuk , Sisimiut and Kangerlussuaq with main focus on the Nuuk area.
We went the last week of March to Nuuk to scout for the King Eiders. The result is that we counted many thousands of Eider ducks. The groups of birds varied from 50 to 100 birds in one flock and some of the bigger flocks where from 500 to 1.000 birds in one flock. There is also good numbers of Longtail ducks and marine birds such as Guillimots and Puffins. It is for sure far better than we ever hoped for.
We will be organizing groups with 6 hunters in each group, 2 guns will be shooting together. Two groups of 2 guns will be shooting from the coast line and islands over decoyes and 2 guns will be shooting from the boat. This three groups of 2 guns will then rotate few times a day. We have large boat with a heated house. That is important as the weather is cold in Greenland during this time of the year. We have arranged a very nice accommodation with breakfast and dinner and we will take packed lunch on board.
Season is from November to the end of March. The best season will be February and March.
By Greenland law the bag limit is for each gun is 10 birds a day , regardless of species.
Each trip will be 5 nights in Greenland and 4 full hunting days. Price is USD: 5.900.- for all inclusive trip in Greenland.
Group can add on extra days if they want , each extra day costs all inclusive USD: 1.475.- In March we will be offering, for those who are interested, a combo trip of King Eiders / Common Eiders together with extra 4 days for Kangerlussuaq Winter Musk Ox. You can also add on your trip some great Saltwater fishing , Arctic Hares , Ptarmigans , or just simply some few days sight seeing in Greenland.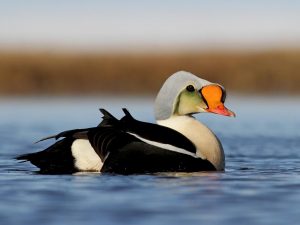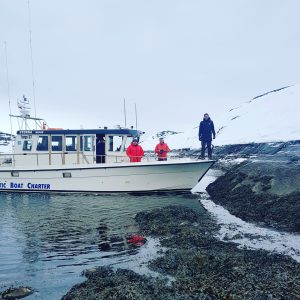 Flights to Nuuk can be either from Reykjavik Iceland or Copenhagen Denmark to Nuuk .
Our first season will be February and March 2019 and there will be a limited availability of openings as we will run this as a small quality opperation.
We can provide lots of pictures taken by us from the shooting area, the accommodation, the boats and etc. We can also share albums with you on dropbox.
For bookings and further information please contact Arni at arnibald@lax-a.is Mobile +354 898 3601 or Karl at karl@lax-a.is +354 893 6180