Invest in your soul – go hunting
Lax-á was established in 1987 and has been one of Iceland's leaders in hunting and fishing outfitters ever since. It was one of the first companies in Iceland to organize wing shooting and reindeer hunting. The company has had a great success in reindeer hunting where previous clients have had a 100% success and a good trophy. They have all returned home delighted with the experience. Lax-a has been under the same management for nearly 30 years and still retains the same core values as in the beginning; to provide quality, both in terms of hunting as well as other services. 
Goose hunting has become a very popular sport in Iceland. There are plenty of geese on the island as four species fly from mainland Europe two of them to lay their eggs in Iceland, the other two using Iceland as a stopover on their way even further north..
The resident geese are the greylag goose and the pink footed goose, the stop overs are the barnacle goose and the white fronted goose. Lax-á offers excellent geese shooting trips to the best hunting areas in the country.
Lax-á is proud to introduce the fine sport of hunting and is looking forward to welcoming you to Iceland in the near future. We´re sure you will enjoy the unusual and exciting experience.
Guides
One of the most important components of any hunting trip is of course, the guide. They are both your advisers and companions for the whole week. At Lax-á, we pride ourselves in the high caliber of our professional guides. We invest a lot of time and effort in guide training. All of them have great experience in hunting. Be assured that all our guides are experienced and capable professionals who will work as hard as they possibly can to ensure your successful and enjoyable hunting trip.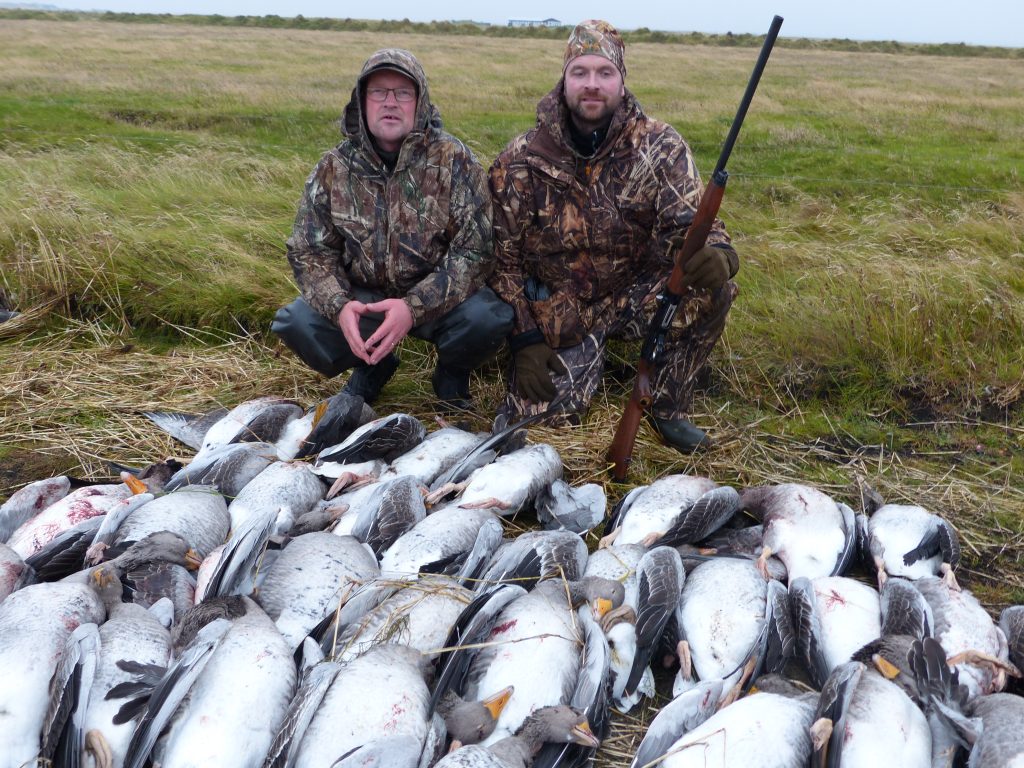 ---
Transports
Iceland is only about 2 hour flight from London and 5 hours from New York. There are daily flights from London, Copenhagen and other cities in Europe and USA. We book you a private guide/driver when in Iceland or a good vehicle of your choice.
---
Hotels
Lax-á provides you comfortable accommodation of your choice.
---
How to book
The process is very easy. You simply give us a call or send us a line via e-mail info@lax-a.is This e-mail address is being protected from spam-bots. You need JavaScript enabled to view it and our highly professional Lax-a team will do all their best to offer you the trip of your dreams.
---
LAX-Á FOR THE BEST CHOICE IN FISHING 
Call us at Tel: +354 531 6100 Fax: +354 5576108 or e-mail lax-a@lax-a.is
Lax-á office
Akurhvarf 16
203 Kópavogur
Iceland
Company's ID Number: 690589-1419
Tel:  +354 531 6100
Fax: +354 557 6108
---
How to get there 
Lax-á office is located in a suburb of Reykjavík called Kópavogur. It is situated in a hill above a lake called Ellidavatn in Vatnsendi area in Kopavogur. You drive in the Vatnsendi area from Breidholtsbraut street, drive right through a roundabout and up to your right on the next roundabout (Akurhvarf). Drive Akurhvarf to the end, turn right when you come to a kindergarten and park in front of the office.